Smoking Risks and Oral Health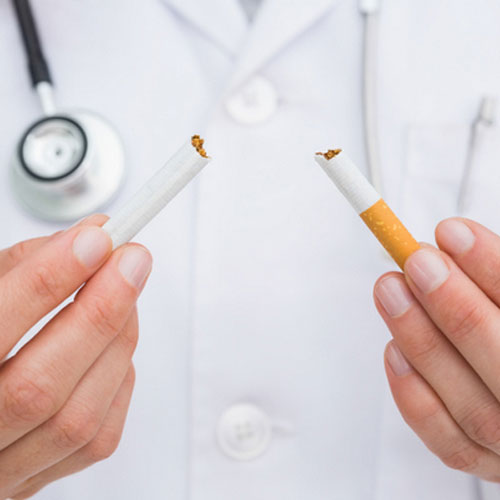 With so much information and data today, patients are often aware of the many health risks that come from smoking tobacco, but they may not be aware of the dental health risks that are associated with smoking marijuana, e-cigarettes or vaping. In general, patients who smoke any of these products suffer from increased plaque and gum disease, leading to more frequent problems with decay and ultimately, tooth loss. At Long Island Smile, we can provide you the information to help your mouth stay healthy and tips to reduce the incidence of potentially painful and expensive problems.


Smoking Tobacco and Your Oral Health

There are some aspects of smoking tobacco that can be seen, as the yellowing of teeth. Other hazards may be less obvious, like the problems that can arise from reduced saliva production. We try to educate our patients on the side effects they can expect along with some tips to help. Side effects from smoking tobacco include:

| | |
| --- | --- |
| • | Teeth Staining: Tobacco use can leave a tinted haze to your teeth that is generally removable through teeth whitening. Teeth can absorb the tar and nicotine, making the stains deeper set in the teeth, meaning they more difficult to remove than average food and drink stains. |
| • | Dry Mouth: The heat of cigarettes and cigars dry the mouth and reduce the amount of saliva. Saliva is a natural cleanser that removes bacteria and debris, if the saliva is evaporated, then the amount of bacteria remains in the mouth causing damage. |
| • | Carcinogens: Smoking introduces potentially hazardous carcinogens into your mouth, this is where problems such as oral cancer become a factor. A majority of oral cancer patients is as a result of smoking. |
Smoking Marijuana and Your Oral Health

Though less discussed, the use of cannabis, specifically smoking marijuana, has been associated with poor quality of dental health. Like tobacco, smoking marijuana is a heat source in your mouth, it dries saliva and has been found to be a factor in the development of lesions, known as leukoedema and erythroplakia.

Smoking marijuana is associated with irritation and the enlargement of the gingival gum tissue and chronic inflammation of the oral mucosa, which is sometimes referred to as "cannabis stomatitis," and can develop into a more serious, malignant neoplasias. The use of heat and carcinogens can be dangerous and complicated with your oral health.


Smoking e-Cigarettes and Vaping

The use of e-cigarettes or vaping is viewed by many patients as a healthier alternative to smoking standard cigarettes. Because there is no tobacco, many people believe that cancer and other tobacco-related diseases are not a risk. Unfortunately, they're wrong.

The nicotine levels are still associated with the development of many types of cancer. Your oral health also remains at risk. Nicotine, however, it is delivered, constricts the veins, reducing blood flow. This means that the patient is unable to get the oxygen flow necessary in their blood reducing their ability to heal. Additionally, nicotine reduces saliva production, even though vaping is not a heat source like traditional smoking. Overall, vaping is still a source of inviting carcinogens into your body.

We can offer you information and tips to stop smoking, just give us a call at (516) 243-7473 today.
Schedule an Appointment
Login To Our Patient Portal
Proud Member
of
cerecdoctors.com Academy
cerecdoctors.com Academy members recognize the importance of continued learning, and staying at the forefront of digital dental technology. Through their membership on cerecedoctors.com, the world's most respected source of CEREC education, Academy members have access to resources that are beyond the reach of many of their peers. This includes exclusive education and learning opportunities for every member of the dental team.
The cerecdoctors.com Academy logo you see on this practice's website ensures that you are supported by the knowledge, experience and skills of a professional team dedicated to providing exemplary patient care.